Rising Stars of Africa Continues Their Partnership with Kaliaaer.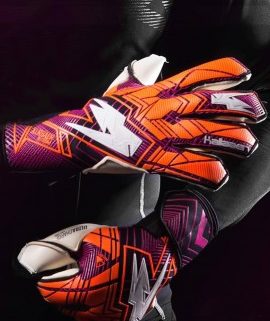 Rising Stars of Africa are happy to announce their continued partnership with Kaliaaer, formally known as KA Goalkeeping.
Kaliaaer is a top-quality glove brand based in Scotland, which is owned by Kenneth (Kenny) Arthur. Kenny is a Scottish former professional footballer and is currently goalkeeping coach of Partick Thistle. He played from 1996 to 2015 and represented Partick Thistle, Accrington Stanley, Rochdale, Grimsby Town, Gainsborough Trinity, Airdrie United and Annan Athletic.
In January 2008, Kenny launched KA Goalkeeping, a goalkeeper glove company which sells Kenny's own brand of goalkeeper gloves. Kenny stated "After spending many years feeling frustrated with goalkeeper gloves in the market, I decided to put all my experiences, and knowledge into creating KA Goalkeeping – Goalkeeper Products that offer quality and value, that us Goalkeepers can rely on and TRUST to deliver when it matters most."
Kenny rebranded KA Goalkeeping in 2020 to Kaliaaer which gives the brand a short, sharp and stand out name. Kaliaaer products offer a wide range of top quality and great value products for goalkeepers to have access to! Kaliaaer offer a wide range of gloves from Roll Finger Goalkeeper Gloves | Negative Cut Goalkeeper Gloves | Hybrid Cut Goalkeeper Gloves, to Positive Cut Goalkeeper Gloves | Xtension Cut Goalkeeper Gloves and Shoklock Goalkeeper Gloves. This gives every keeper perfect choice of what gloves fits right for their hands.
Academy Ambassador Amber Browne has worked closely with Kenny over the years to maintain and grow this partnership. Kenny first agreed to partner with Rising Stars of Africa in 2016 and the partnership has continued to grow.
Everyone at RSA would like to thank Kenny for his continued support! Without the partnership with Kaliaaer our keepers wouldn't be able to perform at their highest abilities.
Go check out Kaliaaer products at https://www.kagoalkeeping.co.uk
https://risingstarsofafrica.org/wp-content/uploads/2020/08/kaliaaer.jpg
330
270
admin
http://www.risingstarsofafrica.org/wp-content/uploads/2021/11/RSOA-Logo-blue-1-885x1030.jpg
admin
2020-08-17 20:16:53
2020-09-11 13:13:19
Rising Stars of Africa Continues Their Partnership with Kaliaaer.